About Us
Beeswax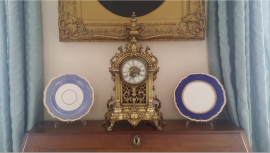 Decades of expert restoration spanning two generations handed down
from a skilled father to his sons.
Originally Beeswax Antique Restorers started about 25 years ago in Cyprus where master restorer Jim Barr, having moved from the UK,
set up a small workshop with his two young sons as apprentices. At present Jim is still working in Cyprus and both sons, now restorers in their own right, have established their own highly successful, professional restoration practices.
Biography
Joseph John Barr
The youngest son, Joseph John Barr, lives and works near London, working regularly with top dealers and famous auction houses such as Bonhams and Christie's. With two generations of family knowledge of the trade to call on, nearly 20 years experience in furniture restoration and two generations of family knowledge of the trade to call upon, we have the best possible solutions for most of your restoration problems.
2010
Joseph was invited to the prestigious Chatsworth House for its attic sale in October 2010 working for them as a restorer and bringing the furniture up to a high standard of restoration finish prior to the auction commencing.